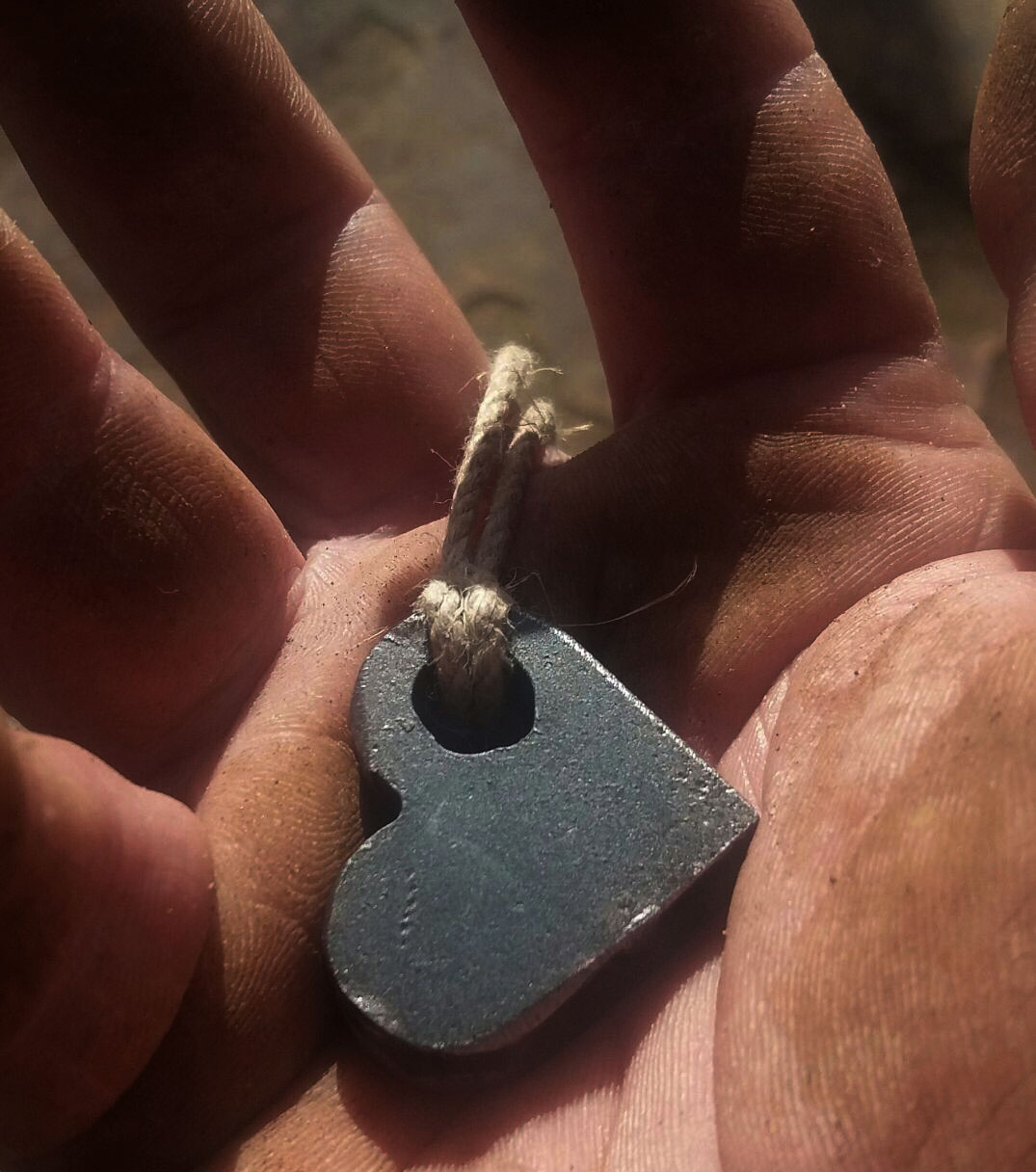 "CORE" is a unique jewel, extracted from an iron slab and accurately worked by Gabriele Simei's skilful hands
Vulcano-Design asked the artist Gabriele Simei to create the necklace "CORE" and its box.
Vulcano: 'Vulcan', name chosen in honour of the god of fire in the form of volcanoes, metalwork and forge, gathers the best interpreters of contemporary craftsmanship project.
Oxidised hearts, mirrored hearts
oxidised and mirroring hearts,
chromed hearts, hearts and chains.
I loved "CORE" from the very beginning:
beating, suffering, singing, shouting, tenderness, strength, excess, rigour.
"CORE" is born
from the vibrating heart
of artisan Rome.
"CORE" is 'Un pezzo de fero aruzzonito' (lit. 'A rusty piece of iron')
passionately cut, worked and sweetened in order to obtain a unique and inimitable effect.
Love, in all its splendor and mess,
has found the perfect expression
in "CORE"
Each piece has a different finishing,
polishing and oxidation process in order to give you
a unique piece which will change with you, through time.
Modern laser manufacturing with "rough cut", the manifold polishing, the customized acid-etching.
Necklace manufactured with Roman style lanyard in natural jute with fisherman's knot that allows to regulate the length.
Small box in oxidised metal, hand manufactured and punched in order to underline the product's uniqueness.

Wrapped with the paper and cord typically used to deliver the goods in Roman local markets.
"CORE" has become the symbol of love in town
CORE is a piece of Rome and takes inspiration from the Rome of the armour of the legionaries and the forged rostrum used to attack the enemy ships, but also from the gratings of the Popes at Castel Sant'Angelo, the clamps of the Colosseum, the sheds in Trastevere train station, the structure of Gazometro, the trusses in Centrale Montemartini and the tie bars for concrete at the Maxxi Museum.